Welcome to River East Personal Care Home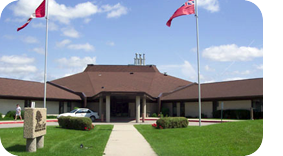 Welcome to River East Personal Care Home. This web site is dedicated to introducing you to our home and the services that we provide to the Elders in our care.

As a provider of long term care, we believe in setting and achieving exceptional standards of care that will maintain and enhance the quality of life enjoyed by our Elders. Our team members are committed to becoming part of your extended family and providing the feeling of a home that everyone looks for.

River East Personal Care Home is home to 120 Elders. It is located in the East Kildonan area of the City of Winnipeg. River East Personal Care Home Ltd. is a privately owned and managed organization. River East is a one-story structure situated on 5.4 acres of land, built in 1993 and  designed and decorated to feel like home from the minute you enter our front door!

Elders live within five neighbourhoods:
Faith Lane
Hope Haven
Charity Road
Serenity Cove
Courage Bay (Memory Care Neighbourhood)
Each Elder has their own large, private suite with a 2 piece en-suite bathroom. Each Elder is encouraged to bring their own furnishings and pictures to make the transition to long term care living easier, however, we do provide our own furnishings: electric bed, dresser, chair and bed side table. River East Personal Care Home provides the opportunity for Elders to continue their relationship with animals and pets with our own live in pets. Visits from family and staff pets are always welcome. We believe that our Elders deserve easy access to animal companionship 24 hours per day.

The back yard of the home features a large tented patio with many flowers and a vegetable garden that are wheelchair accessible for our Elders. Bird feeders are also located in the back area to attract different birds for the Elders to watch. In addition to the large tented area, we have a gazebo that lends itself well for coffee parties, luncheons and life enrichment programs during the summer months.

Our slogan is that it is "better to live in a garden!"



Mother's Day Event

The Life Enrichment Team invites you to
join us for our Mother's Day event:

An evening with Elvis Presley
Wednesday, May 6th At 6:15 pm
In the Gathering Room


Dessert and Beverages will be served.
Entertainment by Elvis: 6:30pm – 7:30 pm

**Tickets are $8.00 and can be picked up at the front business office**

The deadline to purchase tickets is May 4th.
(Elders do not require a ticket and there no cost for Elders to attend this event.)

Due to limited space we will only be selling a set amount of tickets.
Please see the Life Enrichment team if you have any questions.


Site Last Updated: April 27, 2015
Quick Links

Visitor/Guest Meal Pricing

Lunch
Soup/Crackers
$1.25
Main Entrée (Includes Soup)
$5.50
Main Entrée Only
$4.25
Cold Sandwich
$2.75
Cold Sandwich Additions (tomato, lettuce, cheese, extra meat)
$ .25
Dinner
Main Entrée
$6.50
Extra Starch (1/2 Cup)
$ .75
Extra Vegetable (Serving Spoon)
$ .75
Extra Meat/Poultry/Fish Portion
$1.50
Desserts
Pie (slice)
$1.25
Cake (slice)
$1.25
Pudding, Ice Cream, Jell-o, Fruit
$ .75
- Effective May 1, 2015
- All above prices include taxes
Memory Care Neighbourhood

Twenty five (25) Elders reside within each neighbourhood except for our Memory
Care Neighbourhood (Courage
Bay), a separate area with
twenty (20) Elders. This
neighbourhood is provided for
those Elders who require an
environment with reduced
stimuli to decrease confusion
and anxiety and would
benefit from a small
environment. A private
garden and gazebo are
available to these Elders
for summertime enjoyment.
Get the Shot, Not the Flu

Each year, the flu infects many of our Elders and in some cases, causes death.

Please click here to read about the ethical dilemma of getting the flu shot.